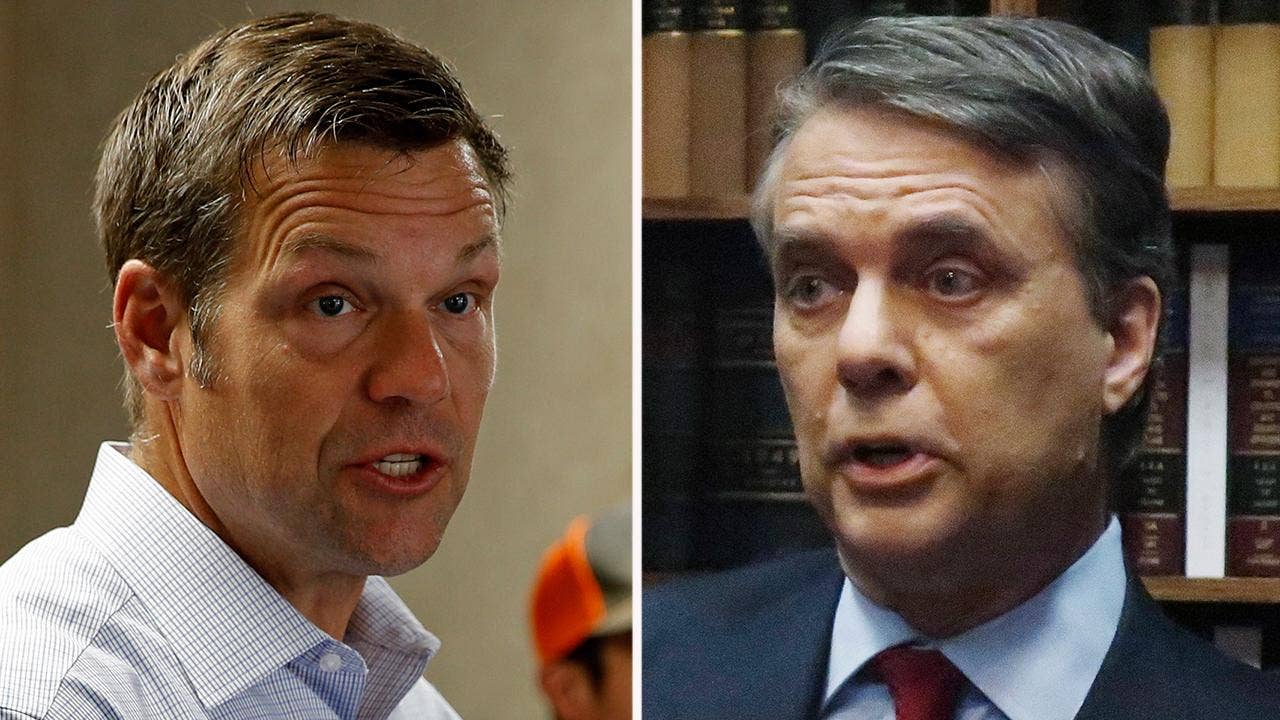 Kansas Secretary of State Kris Kobach is holding the lead by a razor-thin margin in his state's Republican gubernatorial primary, as election officials reported the unofficial tally in the race Wednesday morning.
With the last outstanding county reporting its results, Kobach's agency posted a count showing him ahead by just 191 votes – leading incumbent GOP Gov. Jeff Colyer.
But Colyer hasn't been ousted yet. His campaign put out a statement saying the race is too close to call, and noted that provisional ballots still need to be counted.
The secretary of state's office, which handles the vote tally, also noted on Twitter that the results are unofficial, and provisional as well as some hand-counted paper ballots are not yet included.
Results will be considered official after a state canvass; even then, there could be legal challenges.
Kobach, an immigration hardliner and controversial figure nationally, climbed to the top of the field after receiving a glowing endorsement on Twitter from President Trump, who referred to Kobach as a "fantastic guy" who would "be a GREAT Governor."
Colyer raised more campaign contributions, was endorsed by the National Rifle Association, and had the backing of Kansas political legend, former U.S. Senator Bob Dole. Colyer became governor in January, succeeding Sam Brownback.
But Kobach was an early supporter of Trump's candidacy and the former chair of the president's now-shuttered federal commission on voter fraud. He is best-known nationally for his tough stance on illegal immigration and for advising the Trump administration on immigration, non-citizen voter registration and the 2020 Census.
Democrats have criticized Kobach over policies they say suppress voter turnout. 
No state had gone further than Kansas in requiring prospective voters to provide papers documenting their U.S. citizenship when registering, until a federal judge struck down the law in June as a violation of voting rights.
If Kobach's lead holds, it's unclear whether his presence on the ballot could energize Democratic turnout in the fall and jeopardize Republicans' hold on the seat.
The state's Democratic nomination went to state Sen. Laura Kelly, who defeated four other candidates in the primary. The 68-year-old has served 14 years in the Kansas Senate and is the top Democrat on the budget committee.
Fox News currently rates the race as "lean Republican."
Kansas' contest wasn't the only airtight race Tuesday night. A winner has still not officially been called in the Ohio special election for a vacant GOP-held seat. But Republican state Sen. Troy Balderson claimed victory – and he appeared to be inching closer to beating back a challenge by insurgent Democrat Danny O'Connor.
A victory in the race for Ohio's historically conservative 12th Congressional District would deny Democrats the major upset they had sought ahead of the November midterm elections. The winner takes the seat previously held by Republican Pat Tiberi, who resigned in January to take another job.
Speaking to cheering supporters Tuesday night, Balderson said O'Connor ran a "hard race" and claimed victory. And in a tweet Tuesday night, Trump wrote that Balderson had won a "great victory during a very tough time of the year for voting." 
Fox News' Gregg Re and Kelly Burke and The Associated Press contributed to this report.