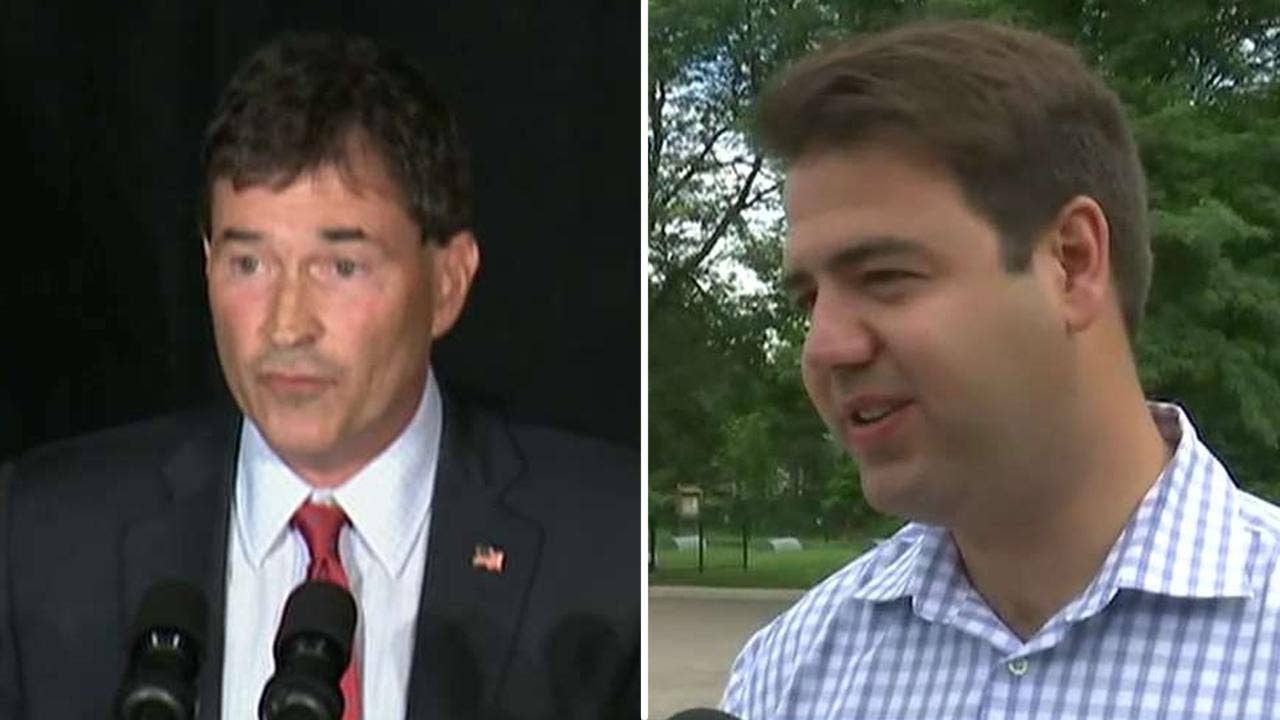 Polls have closed in Ohio's tightly contested special election to fill a vacant House seat, which Democrats hope to snag in a historic upset ahead of November's midterm elections.
The race is one of several key contests on Tuesday, but it has garnered outsized attention because polls showed no real daylight between the candidates in traditionally deep-red district — which some, including Ohio Gov. John Kasich, has said "does not bode well" for the GOP in the fall.
Also, while Kansas, Missouri, Michigan, and Washington state were holding primaries on Tuesday, only Ohio will send someone to Congress immediately.
The mood at the campaign headquarters of Democrat Danny O'Connor, 31, at the Ohio Civil Service Employees Association in Westerville was optimistic Tuesday night as results began to trickle in. O'Connor is facing off against two-term Republican State Senator Troy Balderson, 57, who has Trump's endorsement in Ohio's historically Republican 12th Congressional District. Trump won the district by 11 percentage points in 2016.
Regardless of who prevails on Tuesday to fill the seat of retired Rep. Pat Tiberi, the two candidates will square off again in less than 100 days in November's general election. But an upset win by O'Connor would be embarrassing to Republicans, who have held the seat for the past 35 years — and signal that Democratic voters may be more energized than the GOP base.
FOUR OTHER STATES HEAD TO THE POLLS ON TUESDAY — WHAT ARE THE KEY RACES?
At Balderson's campaign headquarters Tuesday night, the mood also was upbeat. A state Republican party official told Fox News that officials there were "cautiously optimistic" Balderson would prevail, citing high turnout in areas like rural Muskingum County that nearly ran out of paper ballots.
Trump may have played a significant role in the reportedly high turnout in the Ohio contest by staging a freewheeling rally in suburban Columbus on Saturday night. In a sweltering auditorium, Trump said House Minority Leader Nancy Pelosi, D-Calif., "controls Danny O'Connor, whoever the hell that is."
Trump renewed that line of attack on Twitter as voters headed to the polls on Tuesday, saying O'Connor is "weak on Crime" and promising that Balderson would be a "great Congressman."
It's unclear how much Trump's support helped or hurt Balderson. Described by campaign operatives as a "Whole Foods" district, the largely suburban region features a more affluent and educated voter base than the typical Trump stronghold.
Vice President Mike Pence also campaigned on Balderson's behalf, saying he has been on board with the president's agenda.
O'Connor has dominated Balderson on the local airwaves. His campaign spent $2.25 million on advertising compared to Balderson's $507,000, according to campaign tallies of ad spending. The Republican campaign arm and its allied super PAC were forced to pick up the slack, spending more than $4 million between them.
Fox News' Kristin Fisher and The Associated Press contributed to this report.