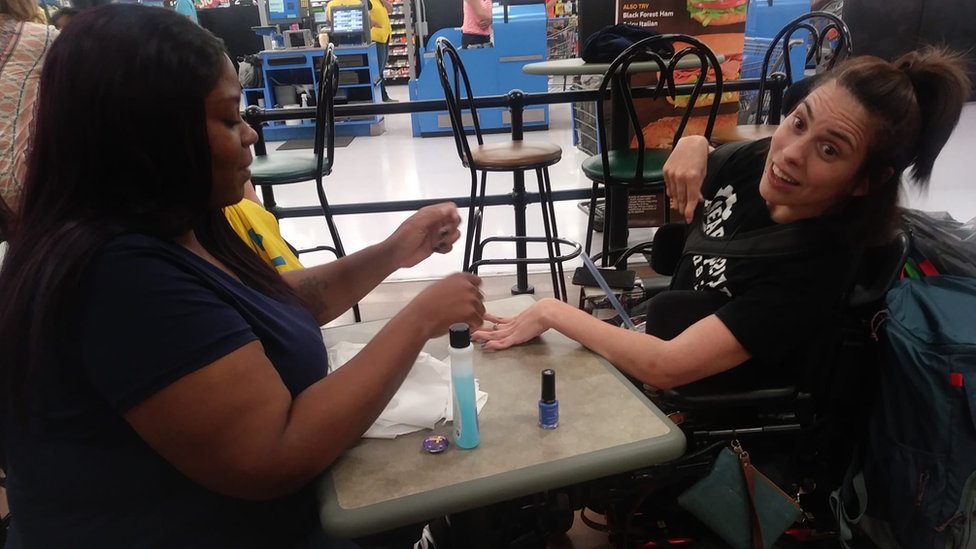 A shop worker who painted the nails of one of her customers after she was turned away from a nail salon is being celebrated online.
Ebony Harris who works at a Walmart superstore in Burton, Michigan, in the US, painted the nails of Angela Peters on her lunch break.
Angela has Cerebral Palsy and had earlier been turned away from a nail salon within the superstore because she "moves too much". The condition causes her muscles to shake involuntarily.
Angela who writes poems in her spare time and is a published author told the BBC the response she'd received since the post had been "overwhelming".
Ebony often helps Angela do her shopping at Walmart.
Tasia Smith, who works at a restaurant also within the superstore, captured the moment Ebony painted Angela's nails and posted pictures of the good deed online.
Her Facebook update has been reacted to more than 5,400 times and shared nearly 4,000 times since it was posted on 30 July.
"I think people like my story because I've been so positive about the whole thing," said Angela. "I've not let what happened get me down.
"I'm grateful for what Ebony did for me."
Angela does not want anyone at the nail salon to get in trouble over the incident and said she has put it behind her.
"I forgive the nail salon for not doing my nails and want to use this opportunity to educate others that people in wheelchairs like me can have our own businesses, which I do, and get our nails done like anyone else".
You may also like:
Many people online praised Ebony for what she did.
Jeff Coleman posted: "Huge kudos to Ebony for such a wonderful act of kindness! Hope karma treats you well. "
And John Fahey also commented that "Ebony's kindness is a shining light for others to take note of".
Other people were overcome with emotion.
"This story made me cry (for good reason). Absolutely beautiful!" wrote Michelle de Young.
Angela's tale has also inspired others to tell their own stories of when a salon refused to paint their nails as well.
Helen Reynolds said: "My hand shakes a little bit and they act like I could stop it. I don't get my nails done any more."
Meanwhile Kacee Averett couldn't understand why the salon would turn Angela way for moving, comparing her situation to young girls who fidget.
"That's so sad they denied her due to her disability; don't they provide services to little girls who move around everywhere? I don't understand why they would deny her."
What is Cerebral Palsy?
Cerebral palsy is a lifelong condition that affects movement and co-ordination
It is caused by a problem with the brain which can occur before, during or soon after birth
Symptoms can include: weak arms or legs; random, uncontrolled jerky movements, walking on tip toes and problems swallowing or speaking
The severity of the condition can vary dramatically from person to person.
Source: NHS Choices
By Kris Bramwell, UGC and Social News